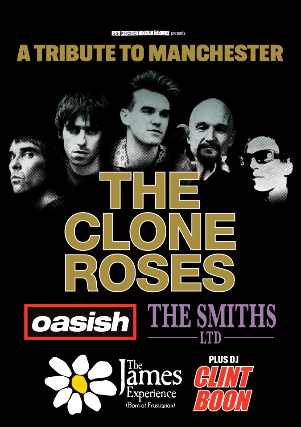 Fri Dec 16 2022
6:30 PM - 12:00 AM (Doors 6:30 PM)
Oxford Road
Manchester M13 9PR
£22.00
All Ages
Doors open 6.30pm | Show finish midnight
GS Promotions Presents
A TRIBUTE TO MANCHESTER
Stone Roses Tribute band "The Clone Roses" are the longest serving and biggest selling Roses tribute band in the UK. In July 2018, they celebrated their 20th Anniversary headlining Sherdley Park in St Helens to 4000 people.

The Stone Roses appeared to have now split up, so for Roses fans there is only 1 option to hear those songs played with the same passion and energy as the real thing. Their attention to detail is second to none, with the band acquiring the same clothing, instruments and usually play the same set as The Roses themselves. The band have recently played Isle of Wight Festival, Shiine on Weekender, and "A Tribute to Manchester" headlining to over 2500 at Manchester Academy 1, and to 1700 people at Ulster Hall in Belfast, as well as a UK Tour of the o2 Academy music venues.

Expect to hear all the classics, "Waterfall", "Made of Stone", "I am the Resurrection" and more!

If you've never seen the real deal or want to re-live the best gig you've been to then "The Clones" will deliver the next best thing!

"I can't believe it's not butter, the second best Stone Roses in the World!

MANI (THE STONE ROSES)

"Easily the Best Roses Tribute Band in the business"

CLINT BOON (INSPIRAL CARPETS / RADIO X)

"The Clones have long been the best"

THE GUARDIAN

The Smiths Ltd was formed in February 2009 by Smiths obsessed Alex Gaskell (guitar), Andy Crook (Bass) and Keith Partington (drums).

We realised that we needed a superb front man and started an extensive 4-month search to find the perfect Morrissey. After a piece in the Manchester Evening News and a Channel M and Rock Radio interview, Johnny Turner heard our plea and came to audition. As obsessive as we were about getting the sound right and bearing an uncanny vocal and physical resemblance to Morrissey, Johnny completed The Smiths Ltd line-up in June 2009.

After 5 months of rehearsals we played our first gig in October 2009 to a rapturous audience and we haven't looked back since.

Being the ONLY Smiths tribute band from and based in Manchester, UK we also have a unique selling point and an authenticity that is hard to beat. The band also uses the same guitars, bass, amps and drum kit live that the Smiths used on their very last tour.

It's unlikely that the Smiths will ever play live again and certainly not with the passion and energy of that brief period between 1983 and 1987. The Smiths Ltd are the closest you will get to experiencing that live charge of Morrissey, Marr and Co on stage.
GS Promotions Presents
A TRIBUTE TO MANCHESTER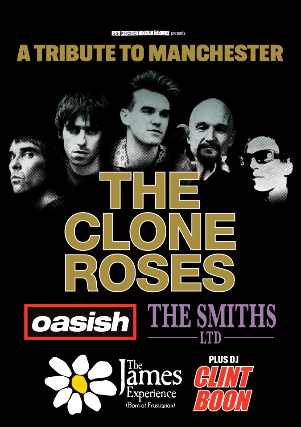 £22.00
All Ages
Doors open 6.30pm | Show finish midnight