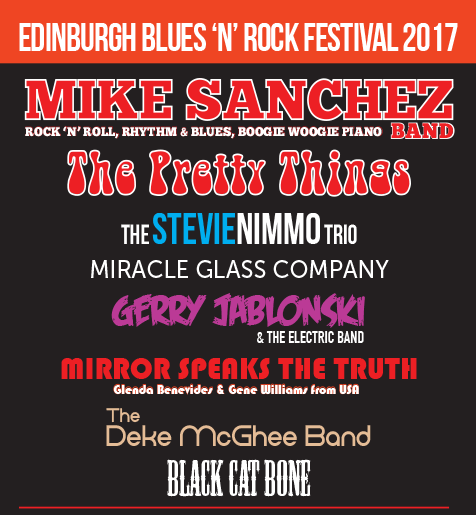 Edinburgh Blues 'n' Rock Festival 2017
After the resounding success of our 2016 Edinburgh Blues 'n' Rock Festival we are back with our brilliant and impressive band line up for EBRF 2017 which is as follows.
MIKE SANCHEZ BAND
ROCK 'N' ROLL, RHYTHM & BLUES, BOOGIE WOOGIE PIANO BAND
THE PRETTY THINGS
THE STEVIE NIMMO TRIO
MIRACLE GLASS COMPANY
GERRY JABLONSKI & THE ELECTRIC BAND
MIRROR SPEAKS THE TRUTH
Glenda Benevides & Gene Williams from USA
THE DEKE MCGHEE BAND
BLACK CAT BONE
This is believed to be an amazing band line-up which will again cement Edinburgh Blues 'N' Rock Festival 2017 as one of best musical entertainment events in the country.
The event organisers said "We are overjoyed at how the event has taken off. For us to have pulled together another amazing band line up for our 2017 event is almost beyond our wildest dreams. We have had ticket bookings from all over the UK, and we are certain that this event will not only live up to everyone's expectations but create a lifetime of happy memories."
The Edinburgh Corn Exchange was chosen as the venue as it has a great reputation for being able to support big events; there will also be a separate room with live DJ-for those who wish to dance the day and night away, which is in addition to the dance floor in the main band area.