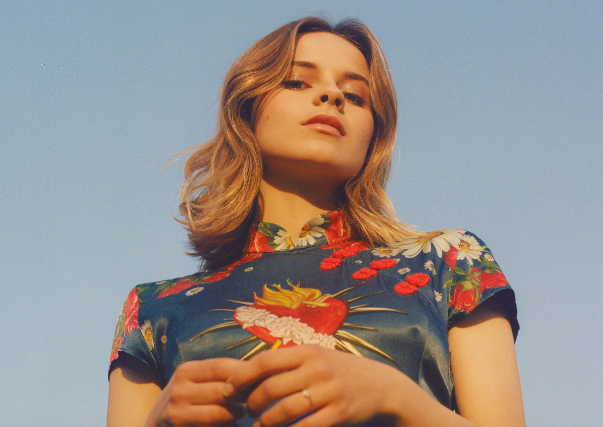 Fri Mar 5 2021
6:30 PM - 10:30 PM
8 Talbot Street
Nottingham NG1 5GG
£22.50
Ages 14+
Support: Emily Burns + Nick Wilson

Please note, this show is rescheduled from Sat Mar 14, 2020. Tickets remain valid.
DHP Presents
Gabrielle Aplin
English singer-songwriter Gabrielle Aplin has an impressive discography consisting of two studio albums, six EP's, three live albums and nine singles. Her most recent EP, 'Avalon' was released on the 6th of October after releasing her first single from the album, 'Waking Up Slow' in August 2017 which has had over 2 million plays on Spotify and over 5 million plays on Facebook.

Gabrielle shot to fame back in 2012 when the Christmas John Lewis advert featured a cover of Frankie Goes to Hollywood's 'Power of Love'. Her success continued with the release of her first album 'English Rain' in May 2013, followed up by a second studio album, 'Light Up the Dark' in September 2015.

Aplin's rap sheet of achievements is nothing short of remarkable. Her debut album English Rain (2013), now certified Gold in the UK, contained a slew of UK top 10 singles, including 'Please Don't Say You Love Me', 'Panic Cord', 'Home', 'Salvation' and Gabrielle's unforgettable cover of 'The Power Of Love' which reached #1 in the UK chart. Her sophomore album Light Up The Dark (2015) displayed a maturing in Aplin's sound and lead to eighteen months of international touring during which she enjoyed a taste of fan mania in Japan, Australia, The US and Brazil, Aplin racking up a further 3 #1 singles Worldwide.

On a Sunday afternoon—market day—on holiday with her family, Emily Burns gave her first public performance. Taking a box from one of the stalls, she propped herself up onto it, standing ever so slightly taller than the tables of fruit and vegetables. She gave the market-goers a rendition of Macy Gray's 'I Try'. Within the first line, Burns had the crowd's full attention. From this very first performance over fifteen years ago, Burns not only demonstrated her urgent and instinctive need to communicate through music, but her inborn ability to captivate a crowd, too.

Born in Scotland and raised in Rugby, from very early on, Burns' musical DNA was formed with what she calls "great songwriter music" but what others might refer to as "dad music." Oasis, Red Hot Chilli Peppers, Eric Clapton, Elton John—were routinely played around the house. But Burns' eye was very quickly turned towards the singer who had managed to harness the rock and roll authenticity of her parents' CD collection, with the spectacle of pop performance—P!NK. With these as her influences, Burns very quickly developed her own musical perspective and mission statement—songs which had to be honest, accessible, and have the potential to connect to absolutely anyone.

While well on her way to reaching the upper echelons of pop, Burns' recent signing to Island Records has been a long time coming. For the 24 year-old, the years leading up to this moment have been filled with false starts and dashed dreams—but Burns' persistence has never wavered. Burns took to the guitar aged seven, determined to be seen and heard through these songs, as she practiced her craft each night after school, and at sixteen, she began work on a series of demos which she sent to her local BBC Introducing station, Coventry & Warwickshire. The buzz of hearing herself on the radio for the first time had an effect on Burns like seawater: the more she got, the thirstier she became. After playing her songs on the radio, BBC Introducing invited her to one of their musical workshop days at Abbey Road Studios, which is where she first began to build her own musical network.

After writing and recording at Abbey Road while finishing her A Levels, she found a place for herself in the city as soon as she could, at eighteen moving into a house in Woolwich with a school friend while she took up a job in catering to pay the bills. In between handing out cucumber sandwiches, Burns continued spending time at Abbey Road, where she was eventually offered the role of receptionist. What was initially meant to be a part-time gig soon inched its way closer and closer to the focal point of her life. After all, Burns was right where she wanted to be. Sort of. Caught up in a whirlwind of reception work and starstruck encounters—Paul McCartney was, of course, a regular visitor—Burns felt inspired and invigorated to be in such a "magical place." But the job also entailed small, daily heartbreaks. She remembers having to walk the recording talent down the corridor, towards the studio door which she would have to close and walk away from.

Burns introduced the world to her poppy musical blueprint via the smart-mouthed single 'Take It Or Leave It' in 2016. It's pure gorgeous, honeyed Spotify-core at its finest, so naturally, the song appeared on several New Music Playlists, and racked up a healthy number of streams. The messages from fans, publicists, label owners came flooding in, and her producer recommended the small London based label 37 Adventures; Burns' seven-track EP Seven Scenes from the Same Summer, which pairs diaristic songwriting with popping candy melodies, arrived in July 2018. Its standout track 'Bitch' was the first song Burns penned using female pronouns to describe her love interest rather than the royal, ambiguous 'you' she'd previously written with. "That was the turning point for me," she says of the track, remembering how she felt her stomach in her mouth the moment before it dropped. "As I was growing up I thought I'd get away with never talking about it or addressing it." But then again, Burns had a scarce number of queer women in the public light to look up to while growing up in Rugby. There was no template on how to navigate pop music's gaze when you're a woman who loves women. "I think there are people who need to see artists being openly gay, now I really just want to be open and clear about who I am and to show that it's really not a big deal." She's certainly stuck to that.

With her music, Burns has not only given more visibility to queer women, she's shone a light on the knotty nuances and gnarlier parts of queer relationships which have previously gone unheard in pop. After parting ways with 37 Adventures, she released the sass-meets-angst EP PDA at the beginning of June. 'Too Cool'—a track which sees Burns trying to get a rise out of her girlfriend who's just a little bit too good–contains the impressively succinct lyric "Loving you is harder when you make it easy". Burns relays true experiences, rather than relying on old love song tropes. "Someone asked recently about what makes me different because there are so many people making pop music." It's this "honesty and vulnerability" which sets her apart. "It's so important to me to just tell it how it is, and I've always said that. Anyone listening to my songs are learning a little bit about me with each song."

The release of PDA coincided with Burns' signing to Island Records at the beginning of the summer. Now, she's set to release her next EP My Town, which showcases Burns' songwriting at its most pared back. "I grew up playing the guitar sitting down and just writing songs, and that's how I've written these next four songs. There are no smoke and mirrors, they're just four storytelling songs." She's flexed her pop muscle; now it's time to get sad. "I want people to see that side of me. I think these are my most vulnerable songs because they are sad, and I haven't shown a sad side of me yet, because I've always dealt with heartbreaks with a 'fuck you, im going to write a sassy song about you', but these are the songs that are the most honest because they're my true hurt and pain." They come produced by the Ivor-Novello songwriter Mark Ralph behind songs from Clean Bandit, Years & Years, and Hot Chip. "My manager tells me I can't get into a healthy relationship otherwise it'll be game over," she laughs.

While the title track is about Rugby, she uses her hometown to serve as a metaphor for her fleeting relationships. "When I tell people I'm from Rugby they say 'I go through it on the train', because if you ever go north of London, everyone stops in Rugby. But no one ever stays," she explains. The song's final line "Please could you be the one who stays until the morning sun" is a gut-wrenching cry for help in what is, Emily says, "just an honest song about loneliness." The EP's most afflictive moment, however, is reserved for the final song. 'Is It Just Me' features the heartbroken singer at her most defenseless. "Are you crying in the shower like a freak or is it just me?" she sings at the end of the song's chorus, a line which she says the friends she sent it to "always remember."

She's hoping to extend that audience further and further. "I want to write songs for everyone. I want to write songs that even my mum could listen to and think 'oh I've experienced that', and make some 12 or 13 year-old girl who's just finding herself, think to herself 'that's nice to hear that'. I want it to be as widely listened to as possible." One day, soon enough, that box in the market will turn into Burns' world stage.
DHP Presents
Gabrielle Aplin
Fri Mar 5 2021 6:30 PM - 10:30 PM
Rock City
Nottingham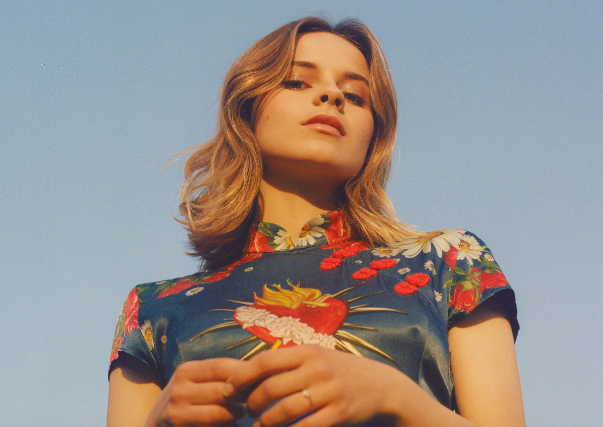 £22.50
Ages 14+
Support: Emily Burns + Nick Wilson

Please note, this show is rescheduled from Sat Mar 14, 2020. Tickets remain valid.