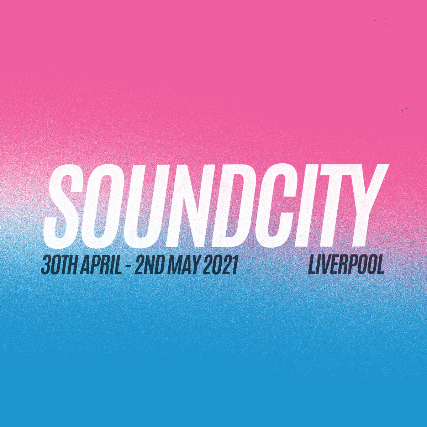 Fri May 1 2020 - Sun May 3 2020
12:00 PM
Baltic Triangle
Liverpool L1 0AH
£43.45
Ages 14+
Liverpool Sound City Presents
Liverpool Sound City Weekend Ticket
The fresh-faced foursome, Alex Moore, Scott Contepcion and Ryan Durrans, all 18, and 19-year-old Jonny Cunliffe, are making waves in the musical world with an "alternative sound" developed from a plethora of musical influences.

Born in Salford and raised on romance, The Lottery Winners blend momentous guitar pop melodies with a humorous and wistful lyricism. The band has built an extensive and loyal fanbase through consistent touring, earning a reputation for hugely entertaining, blisteringly loud live shows. Recent support slots include Catfish And The Bottlemen, Blossoms, We Are Scientists, Madness, The View, Paul Heaton & Jacqui Abbott, The Futureheads, James Veck-Gilodi, Jamie Cullum, The Charlatans, Sleeper, The Wonderstuff, The Wedding Present and The Enemy.

This summer sees the band play festivals including Glastonbury, Kendal Calling, Camden Rocks, Live at Leeds, Liverpool Sound City and Bearded Theory. Their 16-date UK tour culminated in a triumphant sellout gig at Manchester's 450-capacity Academy 3 venue, and the band has received widespread support from BBC 6 Music, XFM, Virgin and BBC Introducing.

The Lottery Winners have completed work on their debut album - recorded at Rockfield Studios in Wales with producer Tristan Ivemy (Frank Turner, The Holloways) and mastered at Abbey Road by the legendary Frank Arkwright (Coldplay, The Smiths, Arcade Fire) and will release the first singles later this year.


Alfie Neale is a singer, songwriter and producer, originally from Dorset and now based in Brighton, England. His sound is an emotive and brave mix of styles, investigating elements of soul, disco, jazz and hip-hop.

Neale's influences range from the modern (Amy Winehouse, Anderson .Paak) to the classic (Doobie Brothers, George Benson) reflecting his wilful genre-hopping tendencies. Now with four releases under his belt, each revealing subtly different facets of his modus operandi, Neale's unique soulful vocal sits as the centrepiece, bringing a coherence to a sound that is all his own.

Alfie Neale's soul-bearing performance and roof-raising energy has seen him rise from nowhere to a sell-out headline show at Brighton's 350 capacity The Haunt venue in less than 12 months.

Bessie Turner is a singer song writer based in East Anglia. Her style is an eclectic pastiche of her musical heroes; she is influenced as much by Lauryn Hill as she is Dionne Warwick. Yet it is her own uniqueness – in both her personality as well as her music - that sets her apart as an artist and performer. Her voice rings with a soulfulness that floats like a cloud; wistful, effortless and above all charming.


Bessie released her debut single Big Sleep on her own label in April 2017 to entirely unexpected acclaim; the song was viewed/streamed more than 10,000 times in the first 12 hours of her existence as a recording artist. With support from BBC Introducing and after performing a live session for BBC Introducing in Suffolk the single wound up with plays on BBC Radio 1 and 6 Music. Six weeks into her career Bessie Turner was asked by BBC Introducing to appear at Latitude festival.


Her second single 'Words You Say' was released In September 2017. It received its world premier from Jo Wiley on BBC Radio 2. The song has gone on to be played extensively by Jo Wiley and Zoe Ball on BBC Radio-2, Steve Lamacq on BBC Radio 6 Music and Huw Stepehens on BBC Radio 1. In December 2017 Bessie was invited to perform a filmed live session at London's legendary Maida Vale Studios for Jo Wiley and Radio-2. The following month she recorded a stripped back set for Steve Lamacq's Radio 6 Music show.

Bessie Turner's debut EP 22:22 was self released on Don't Try in April 2018. The same month she headlined her own run of UK and EU shows well as supporting Baxter Dury on selected dates of his tour.

Bessie was invited to headline the BBC Introducing Stage at Latitude 2018 where she also performed live on Zoe Ball's Radio 2 show to millions of listeners worldwide. In August 2018 she headlined the BBC Introducing stages at Reading and Leeds Festival.

She is currently working with Grammy winning producer Richard Woodcraft on a follow up to 22:22.

Catholic Action are a product of Glasgow's famously fertile music scene but have won fans across the UK thanks to their peerless pop masterpieces. After a run of rapturously received gigs in their hometown the group released their long-awaited debut release for Luv Luv Luv Records (Spector, Only Real, Splashh, The Garden).

The four-piece band are centered around the singular talents of vocalist and guitarist Chris McCrory – already known among key taste-makers as the drummer in Casual Sex, another of Glasgow's leading musical lights.

McCrory became a full-time producer and recording engineer straight from school after establishing his own studio. While helping many of the artists in Glasgow's burgeoning DIY scene, McCrory is also an exceptional songwriter in his own right and his group quickly became the most talked about in town.

When London D.I.Y veteran Sam Matlock & international model Milkie Way met at a concert in Camden in early 2019, something strange was born. WARGASM is a collision of two personalities that can be likened only to fighting fire with fire. Though still at the beginning of it's career, the intent of the project is clear – this is a sound, a visual, a lifestyle.
Liverpool Sound City Presents
Liverpool Sound City Weekend Ticket