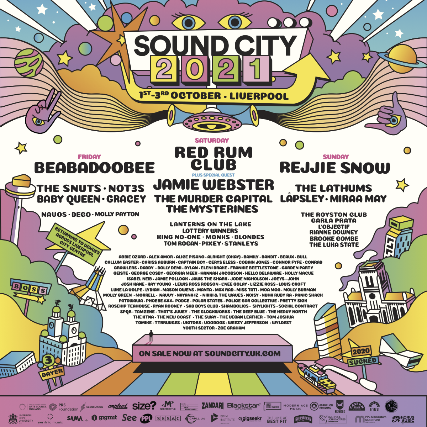 Fri Sep 25 2020 - Sun Sep 27 2020
12:00 PM
Baltic Triangle
Liverpool L1 0AH
£60.50
Ages 14+
Weekend tickets include Friday, Saturday and Sunday.
Last entrance to the festival site for wristband collection is 6pm (Friday 7pm)
Liverpool Sound City Presents
Liverpool Sound City Weekend Ticket
Summer 2018 has truly been one to remember for St Albans trio Friendly Fires. The band - comprised of Ed Macfarlane, Edd Gibson and Jack Savidge - returned to the recorded music and live arenas this year following a hiatus, to remind us all exactly why we fell in love with them in the first place. First came the anthemic, Mark Ralph-produced, Radio 1 playlisted comeback single 'Love Like Waves', which was met with widespread acclaim. Then launching into a summer of high profile festival appearances (not to mention a sold out headline show at London's legendary, 5000 capacity Brixton Academy), Friendly Fires would go on to headline some of the UK's best loved festivals - including Festival No 6, Lost Village and Truck Festival - in addition to show-stealing performances if front of hundreds of thousands of fans around the world.

Bad Sounds, brothers Ewan and Callum started on different musical paths before the band was born, Ewan was keen on making hip-hop beats and playing with samples, Callum was more engrossed in the soul, pop and R'n'B of Michael Jackson, Marvin Gaye and Curtis Mayfield. The combination of Ewan and Callum's differing styles coming together create the colourful and unique world that is Bad Sounds.

BC Camplight is the moniker of maverick songsmith Brian Christinzio. The Philadelphian turned Mancunian is considered one of indie music's most forward-thinking artists with a discography which acts as a soundtrack to a life rife with bad fortune, mental illness, running afoul of the law, and ultimately absolute redemption. Whilst living in Philadelphia Christinzio performed live with The War On Drugs in between releasing two critically successful yet commercially ignored records. He was also a coveted session pianist lending his talents to scores of albums, perhaps most notably Sharon Van Etten's 'Epic'. After a period of homelessness and running on fumes creatively Christinzio made a move across the Atlantic to Manchester, UK in an effort take control of his life and reshuffle his musical deck. The result was the recording of 2015's ode to Manchester and baroque pop tour de force "How To Die In The North". The recordings resulted in a record deal with Bella Union and placed Christinzio on a path towards artistic fulfilment. However, a severe leg injury landed Christinzio in hospital where he was forced to remain whilst his UK work visa expired. Despite pleas to the Home Office to allow the ailing artist to apply for an extension a decision was made that would forever alter Brian personally and artistically. The day after his record was released Christinzio was deported from the UK and banned from returning. "How To Die In The North" was essentially shelved.

After 16 months of separation from the UK the resilient Christinzio was reunited with his beloved Manchester, gaining entry through newly acquired Italian citizenship. His most recent, and most lauded album "Deportation Blues" is an exhilarating dynamic document of calamity and stress, relayed through richly melodic arrangements spanning songwriter classicism, gnarled synth pop, 50's filth-rock, and various odd junctions in between mirroring the creators fractured mindset. It is an immensely powerful diary chronicling an impossible set of life circumstances whilst shining a white-hot spotlight on the composer's off-kilter brilliance. The album has since been revered by critics, become a stalwart on the BBC Radio 6 Music playlist (BBC 6 Music 2018 album of the year as voted by Marc Riley), and put BC Camplight back on the stage where he belongs. With a slew of tours and festivals on the horizon Christinzio, a remarkably relentless entertainer, will bring his immense new live show to the UK and Europe. "It's no fun giving an audience a standard show that they can get elsewhere" explains Christinzio. "Sometimes it's intense, sometimes it's emotional, sometimes it's basically a fucking stand-up routine. I always like to involve the audience and make it memorable for everyone involved. I think we are one of the best live bands in the world and it's an odd feeling finally getting an opportunity to get in front of loads of ears and eyes. In a perfect world I'd be able to organise a concert on the roof of the Home Office one day".

This year has seen Larkins make a huge statement as one of the most exciting and in-demand bands to emerge from Manchester in recent times.

The guitar-pop collective released their debut single 'TV Dream' on Good Soldier Records to an immense response from both fans and media, quickly clocking up over a million streams. The song proved a radio hit and featured on the playlists of Radio 1, BBC Introducing and Radio X, while the band have also received support from Zane Lowe on Beats 1.

The release led the band to sell out a landmark hometown show to 2000 rapturous fans at Manchester's Albert Hall. Capturing the moment perfectly, Larkins release the live album Larkins: Live At The Albert Hall, Manchester. It is available to stream now and can be purchased physically from July 5th on CD, cassette and vinyl.

As an undeniable proven live force Larkins have sold out headline shows across the UK and Europe, and played their first US shows this year at SXSW Festival. The band are currently recording their debut album with producers Dan Nigro (A-Trak, Sky Ferreira, Lewis Capaldi) and Andrew Dawson (Kanye West, Fun, Kid Cudi) – a record which is sure to send Larkins even further into the stratosphere.

"Manchester's next arena act" – Manchester Evening News

""Manchester guitar-poppers Larkins make massive tunes with huge choruses made for the indie dancefloor" – Dork Magazine

SPINN, formed of Johnny Quinn, Andy Power, Sean McLachlan, and O'Reilly have been a band since 2015.

The band signed to ModernSky UK in August of 2017, through which they are releasing their debut EP on 6th April.

Since the release of their debut single, 'Home', and follow-up track, 'Notice Me', the band have played with The Sherlocks, Will Joseph Cook, Flyte, Ten Fé and Dream Wife.

They also had slots at FestEVOL, Kendal Calling and Liverpool Music Week. Whilst having slots at Liverpool Sound City, 110 Above Festival and CloseUp Festival confirmed for 2018 with a host of others to announce.

During their prolific release schedule, the band have amassed over 3,000,000 streams of Spotify, and had support from BBC Radio One, Radio X, BBC Radio 6 Music and Amazing Radio. Whilst online they have had repeat support from Dork, as well as, Tenement TV, A Music Blog Yea? and Fresh On The Net.

The fresh-faced foursome, Alex Moore, Scott Contepcion and Ryan Durrans, all 18, and 19-year-old Jonny Cunliffe, are making waves in the musical world with an "alternative sound" developed from a plethora of musical influences.

Already garnering a massive following in Scotland and across the UK and with support from the likes of BBC 6 Music, Radio 1, Clash and Dork Magazine, The Snuts are one of the most exciting bands around. Having graced the stages of Benicàssim, Reading & Leeds Festival, The Great Escape, Live At Leeds and TRNSMT, the band return to the festival circuit this summer, with slots at Isle of Wight Festival, Mad Cool, Reading & Leeds Festival, Y Not Festival and a main stage, homecoming performance at TRNSMT ahead of supporting Lewis Capaldi on his UK tour this winter.

The West Lothian Quartet released their new single 'All Your Friends' produced by Inflo (Karen O / Danger Mouse, Michael Kiwanuka, Little Simz) in May 2019. Driven by a huge slice of rock 'n roll swagger, fused with a vintage hip-hop backbeat, 'All Your Friends' possesses an irresistibly catchy raw edge and a massive chorus.

A band hotly tipped by The Sunday Times, Marsicans are a fast-rising UK indie quartet whose driving, harmony-laden sound and hard-hitting live shows are earning them a reputation as an emerging force in British music.

The last 12 months has seen support for the band continue to grow on multiple fronts; with a live session at the legendary BBC Maida Vale studios, singles hitting the BBC Radio 1 weekly playlist as well as high-profile Spotify and Apple Music playlists, and the opening credits of E4's Made In Chelsea. A sold-out headline tour earlier this year - including London's Borderline and the 800-capacity Leeds Church - was followed by a packed summer festival schedule and crowning performances in front of huge crowds on the Radio 1 stage at Reading & Leeds Festivals. Their autumn single 'Suburbs' hit 100,000 streams on Spotify within a few weeks of release.

Never ones to stand still, Marsicans have announced their April 2019 UK tour dates, straight off the back of a nationwide tour with Fickle Friends. If their last headline dates are anything to go by, tickets will sell quickly.

Born in Salford and raised on romance, The Lottery Winners blend momentous guitar pop melodies with a humorous and wistful lyricism. The band has built an extensive and loyal fanbase through consistent touring, earning a reputation for hugely entertaining, blisteringly loud live shows. Recent support slots include Catfish And The Bottlemen, Blossoms, We Are Scientists, Madness, The View, Paul Heaton & Jacqui Abbott, The Futureheads, James Veck-Gilodi, Jamie Cullum, The Charlatans, Sleeper, The Wonderstuff, The Wedding Present and The Enemy.

This summer sees the band play festivals including Glastonbury, Kendal Calling, Camden Rocks, Live at Leeds, Liverpool Sound City and Bearded Theory. Their 16-date UK tour culminated in a triumphant sellout gig at Manchester's 450-capacity Academy 3 venue, and the band has received widespread support from BBC 6 Music, XFM, Virgin and BBC Introducing.

The Lottery Winners have completed work on their debut album - recorded at Rockfield Studios in Wales with producer Tristan Ivemy (Frank Turner, The Holloways) and mastered at Abbey Road by the legendary Frank Arkwright (Coldplay, The Smiths, Arcade Fire) and will release the first singles later this year.

Liverpool Sound City Presents
Liverpool Sound City Weekend Ticket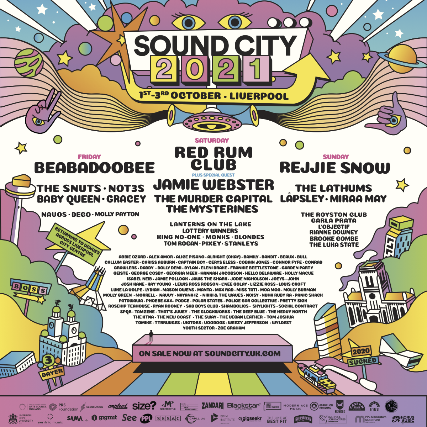 £60.50
Ages 14+
Weekend tickets include Friday, Saturday and Sunday.
Last entrance to the festival site for wristband collection is 6pm (Friday 7pm)