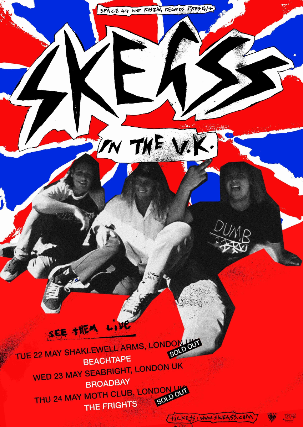 Thu May 24 2018
7:00 PM - 11:00 PM
Valette Street
London E9 6NU
Ages 18+
Sorry, you missed this event.
Check out other similar events on TicketWeb.
Hailing from Byron Bay, Surfer-Garage Rock trio Skegss have taken the world by storm. Developing a cult following, a culture and movement that 1000 of fans relate to. Being invited to record their debut EP at the Rubber Tracks Converse studio in New York, Skegss took this opportunity to lay down their unique laid-back sounds that they are so recognised for.

Hypochondriac, the third full-length album from San Diego band The Frights, is an album full of addictively catchy songs about fear and frustration. "I've gotten better with time, but I'm pretty paranoid about most things, especially health issues—I think everything's killing me," says Mikey Carnevale, vocalist/guitarist for The Frights. "That, mixed with anxiety, means that I can be a real baby. All of these songs address this in one way or another."

Produced by FIDLAR frontman Zac Carper, Hypochondriac follows The Frights' 2016 album You Are Going To Hate This and marks a period of major creative growth for the band (which also includes bassist Richard Dotson, drummer Marc Finn, and guitarist Jordan Clark). "I wrote every song on an acoustic guitar, which is something I made a point to do," says Carnevale. "With the records before, I always wrote on an electric guitar, super-loud, because I wanted to feel that kids could mosh to it. Now I don't care."
Thu May 24 2018 7:00 PM - 11:00 PM
Moth Club
London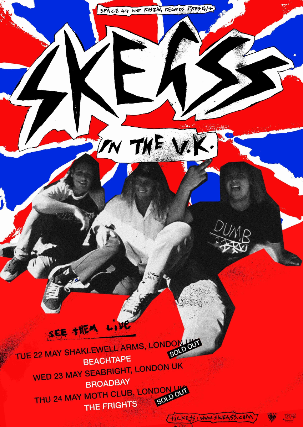 Sorry, you missed this event.
Check out other similar events on TicketWeb.