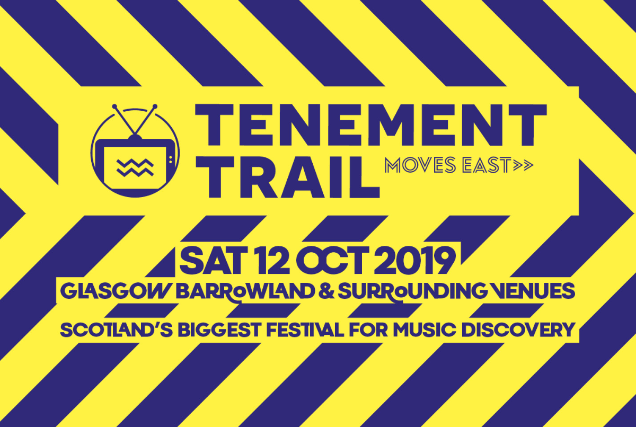 Sat Oct 12 2019
2:00 PM
£29.15
Ages 14+
14+ (Under 16s with an adult)

VENUES
Barrowland
Barrowland 2
St Luke's
Winged Ox
BAAD
BAAD Courtyard
+ more TBC
TENEMENT TV & DF CONCERTS PRESENT
TENEMENT TRAIL
The upwards trajectory of Fatherson's blossoming career serves a heartening reminder that the hype machine is no substitute for talent, authenticity and graft.

This is a band afforded no shortcuts to get where they are today, a success story built on word-of-mouth conversions. And they wouldn't have it any other way. Attend any Fatherson gig and you'll find a room echo with lyrics being sung back en masse by adoring fans.

The articulate, brooding, emotive rock of Fatherson albums one and two - I Am An Island (2014) and Open Book (2016) - is so enduringly strong you can be sure that these three guys in their mid-20s will still be drawing from them if they're gigging two decades down the line.

Fatherson's roots lie in the Scottish town of Kilmarnock, where Ross Leighton (vocals, guitar), Marc Strain (bass) and Greg Walkinshaw (drums) were school friends. Two years before they'd even released an album they were selling out 600-capacity venues.

Their popularity scaled greater heights with the release of Open Book on Easy Life Records, a subdivision of Sony Music, in the summer of 2016. When it went straight in at No.2 in the official Scottish album charts, Fatherson found themselves sandwiched between Paul Simon and Coldplay. Poor Beyonce was pushed down to No.4.

Other highlights to date include supporting Kings Of Leon in Vienna, selling out a headline show at the legendary Glasgow Barrowlands and packing out a 12,000-capacity tent at T in the Park. They have also played in the UK and Europe with Biffy Clyro,Twin Atlantic, Enter Shikari, Frightened Rabbit and Augustines.

Following quickly on the heels of Radio 1 Huw Stephens cherry-picking Sea Girls as Ones To Watch For 2018 the band release `Heavenly War EP2 which furthers the bold claim that they are one of the most reliable new bands for penning these instant indie-disco, festival ready anthems.

Written and fronted by Henry Camamile, the single Heavenly War now follows `Call Me Out', 'Lost', and 'What For' as another timely example of what this young British band are capable of.

Arriving in London via Leicestershire and Kent, Sea Girls know there is nothing understated or apologetic about a bold chorus, especially one that can be sung in unison by thousands of fans together of all walks of life. Sea Girls have these choruses in spades.

Henry Camamile on `Heavenly War' "This song is about that weirdly exciting but quite difficult conflict of feelings and events that makes our lives worth living. Ultimately describing that moment when you feel the best about life. I think it's a really positive message."

Listen to Heavenly War here: https://seagirls.lnk.to/heavenlywar

NME - "Call Me Out is a proper belter"

DIY - "Sea Girls deliver rousing guitar-pop"

CLASH - "Snappy, instantly infectious indie bangers"

DORK - "Ridiculously catchy indie-rock ringing through your ears"

Hailing from the English village of Castleton, brothers Rory and Eoin Loveless formed Drenge (taken from the Danish word for "boys") whilst in their mid-teens. Initially with Eoin on lead guitar and vocals and Rory on drums, their raw grunge-inspired blues-pop sound was cultivated from the countryside landscape and their desire to escape from it. Their self-titled debut album was released a month after they made headlines for appearing in British Labour MP Tom Watson's resignation letter from the Shadow Cabinet. After making their American television debut on the Late Show With David Letterman they released their second LP Undertow and toured it to festivals & headline shows across the world, playing with the likes of Wolf Alice, the Maccabees and Arctic Monkeys.

Drenge have now announced their third album, Strange Creatures, produced by longtime collaborator Ross Orton (Arctic Monkeys, M.I.A, The Fall), due for release on February 22nd 2019 via Infectious Records. Strange Creatures includes the singles 'This Dance' and 'Autonomy', and was recorded in Sheffield at McCall Sound earlier this year. The album was made "after months of chiselling away, ripping themes and ideas apart, and sewing them back together", and is described by the band as "the most considered record we have ever made".

Zuzu is the definition of a millennial artist; a visibly confident front person, songwriter, producer, director, actor and comic book illustrator; starring and orchestrating all her videos, recording a considerable amount of her music at her home studio in Liverpool.

Her boundary-pushing mentality feeds into the psyche of the city which has long been imbued with a spirit of fierce independence, unwavering loyalty and creative genius. All the same magic that defined the likes of The La's, Echo & The Bunnymen, The Zutons, The Coral and Cast are visible in Zuzu's music, which, to some degree, are indebted to her surroundings; a city of jesters, jongleurs, troubadours, artists, poets and visionaries.

Channelling the brooding atmospherics of Radiohead and The xx, but with a little more bite and political charge, Another Sky's music is dark, cinematic and richly textured. Layering ambient guitars with penetrating bass lines and anxious beats, there is a thrillingly haunting quality to it.

When you listen to Another Sky, it's probably Catrin Vincent's voice that'll catch your attention first. It is a weapon – peculiar, androgynous, lurching and defiant – that she wields to beautiful, evocative effect. Catrin is delighted that people find it so strange. "A lot of people think I'm a man," she laughs. "I think people are embarrassed when they initially think it's one of the guys singing, but I love it. It's like I've got two voices – there's this soft, whispery voice that can go really high, and then suddenly there's this angry chest voice. Somewhere along the way, I drew two voices together."

Politics is important to Catrin in her daily life, and she doesn't see why it shouldn't infiltrate the music too. 'Chillers', a woozy, sarcastic pop song, lambasts those in privileged positions who choose to do nothing – "Why worry 'bout the weather or nuclear weapons when you can eat for free on a black card at Nandos?" – while Brave Face is a tribute to female strength in the face of abuse. Following in the footsteps of her heroes – Margaret Atwood, Frida Kahlo, Kate Tempest, and her mother, who's worked as a social worker and counsellor – Catrin wants to use her art to make a difference in the world.

"I just don't like apathy," she says simply. "I don't like the idea that artists shouldn't talk about politics – politics bleeds into everyone's lives. I don't see why you can't be an activist and an artist. Of course you can change things. The world is what we make of it."

That rare new band who seem to arrive self-contained, fully-formed, and seemingly ready for anything, APRE are already showing a keen ear for fearless pop songs which also speak of life's bigger hopes and fears.

Drawing equal influence from the confessional tones of Bon Iver and Foals as red-blooded 80s pinups like Tears For Fears and ABC, APRE first met in the unlikely musical haven of Ealing Chess Club. They were introduced through the owner Sue, who let the pair use the back room of the club to start self-producing their songs and rehearse their creations live. The first results, 'The Movement Of Time' EP, proved an immediate checkmate, twisting those most private moments into widescreen, alternative pop. Its followup - 'Drum Machines Killed Music' - began life as one of the boys' dissertation title, but now acts as a movement of time into the next phase of APRE (discussing the changes in music through the developing use of drum machines). Nodding to the past, present and brightly forecast future, APRE's quickly-identifiable sound is matched by a keen eye for arresting, slightly surreal visuals (from the early artwork to their instantly-identifiable red jackets). Watch this one.

EUT don't want to grow up. The Dutch five-piece make shiny, eternally youthful guitar music that champions acceptance, community and - most of all - buckets of fun. It's apparent within a single second of debut album 'Fool For The Vibes', when first track 'Look (Who Has Decided After All)' bursts into life with a glammed-up, Thin Lizzy-worthy guitar lick.

Meeting at Art School in Amsterdam, the band is the brainchild of Megan de Klerk, a captivating vocalist whose lyrics dance around '90s influenced guitar pop that flits between traditional genre boundaries with abandon. It turns out it's these differences that saw the band thrive in their early days, using opposite takes on things as a driving force rather than a stumbling block.

"We're five completely different people, and it clicks because of that," bass/keys player Sergio Escoda affirms. "We are so different, and we all like different stuff and inspire each other. That's the explanation of why it's so easy for us. It's all about imbalance, left and right, contradictory stuff. Opposites attract!" he grins. "That's our fuckin' statement baby."

Across their debut album, released late last year in their native Holland and getting a UK release via indie stalwarts V2 Records on 24 May, these competing elements meet harmoniously. The band cite The Cardigans, Beck and Blur as influences on the record, and strokes from across the guitar music spectrum can be found in every fascinating corner of the record.

'Sour Times' shows off Megan's vocals best; its inherently playful nature bursts out in a defiant wave in its soaring earworm of a chorus. "The big bad world will still throw rocks at my door," she concedes, but rather than giving in to such pressure, EUT's tactic is so dance through the pain. Single 'Supplies', meanwhile, gained significant Radio 1 support on its initial release last year, and feels perfectly at home on the airwaves - it's a sassy strut that makes you feel invincible. Elsewhere, 'Bad Sweet Pony' flits between leather-clad guitar licks and a warm, surging chorus.

Emerging alongside the likes of Pip Blom, Canshaker Pi and Amber Arcades, EUT are further proof of a burgeoning Dutch scene making interesting, unusual guitar music that prioritises joy and confidence. "We've become family," Megan agrees of the band's relationships with their peers.

The confidence gained from seeing their contemporaries rise around them has given EUT an extra hit of ambition as their debut is set to be unleashed across the globe. "At the beginning, we just wanted to make nice songs and have fun," Megan says. "But now we really feel like there's so much more left for us to see and to conquer."

This idea of conquering - conquering expectations and preconceptions, conquering personal ambitions, conquering against the ever-present dark - is paramount across 'Fool For The Vibes', an album that focuses around the idea of being told that, at a particular age, you need to act a certain way, or do certain things, before comprehensively kicking back at the outdated preconception. The lyrics are all about feeling like you have to grow up, but you know you're never going to. Megan describes the record as "Tiny stories that will tell you all about that."

"I just want people to not feel like they have to grow up," she hammers home. "Do whatever you want and don't fucking care about what anyone thinks of you, because people are just scared. We're not growing up...we're growing. There's a lot of pressure, that you have to be the best at everything, and act your age, and you just don't. Just do whatever you want and be kind."

"I tell myself that too," Sergio backs up. "To go off and do the stuff that you 'should' do when you're 28."

"MAKE BABIES!" Megan yells, laughing.

"Or get married, and have a 9-5 office job…" he continues. "Sometimes you say that to yourself, but then you come into rehearsal, play these songs again and you feel like nothing really matters anymore except this...except what you're good at." As a manifesto for self-acceptance and making the most out of life, it sounds pretty much perfect, and all plays out on 'Fool For The Vibes'.

OK Button are a dream-pop trio from Scotland composed of Amber Wilson, Nass Donald and Adam Falkner. Together with producer Craigie Dodds, they have all had illustrious careers in music before forming OK Button, with bands like Bombay Bicycle Club, Babyshambles and Gorillaz featuring in their formidable résumés.

Describing their music as a "fresh, eclectic sound with a solid backbone", the band released their first single 'The Message' last year to rapturous appraise.Their follow-up singles 'Beds' (Nov 2018) and 'Flesh & Blood' (Jan 2019) followed in similar style. Their music has been greatly received reaching over 1 million streams in a short time. Most recently released, Grenade premiered Clash magazine with critical acclaim from a number of established blogs and radio shows, even reaching Germany's hugely popular, Radio Fritz.


RuthAnne has a rare quality that stands her out – even in a world that is over-saturated with musical talent. Growing up singing in church choirs in Ireland and listening to the classic soul of Whitney Houston, Alicia Keys and Lauryn Hill, she draws on the greats – but is never anything other than herself.

TENEMENT TV & DF CONCERTS PRESENT
TENEMENT TRAIL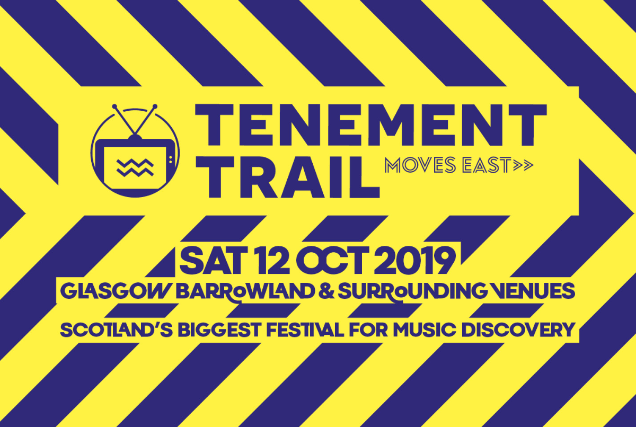 £29.15
Ages 14+
14+ (Under 16s with an adult)

VENUES
Barrowland
Barrowland 2
St Luke's
Winged Ox
BAAD
BAAD Courtyard
+ more TBC