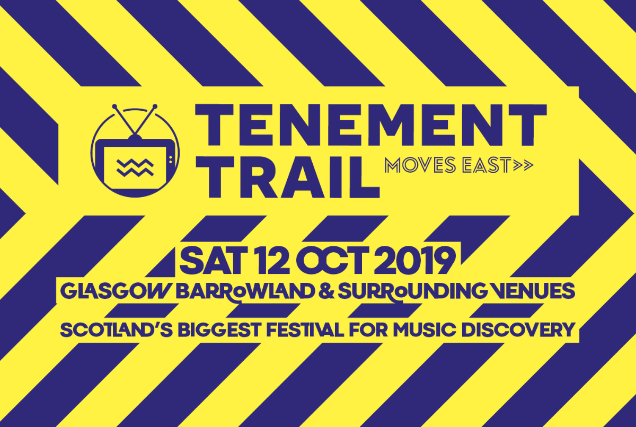 Sat Oct 12 2019
2:00 PM
£29.15
Ages 14+
14+ (Under 16s with an adult)

VENUES
Barrowland
Barrowland 2
St Luke's
Winged Ox
BAAD
BAAD Courtyard
+ more TBC
TENEMENT TV & DF CONCERTS PRESENT
TENEMENT TRAIL
The upwards trajectory of Fatherson's blossoming career serves a heartening reminder that the hype machine is no substitute for talent, authenticity and graft.

This is a band afforded no shortcuts to get where they are today, a success story built on word-of-mouth conversions. And they wouldn't have it any other way. Attend any Fatherson gig and you'll find a room echo with lyrics being sung back en masse by adoring fans.

The articulate, brooding, emotive rock of Fatherson albums one and two - I Am An Island (2014) and Open Book (2016) - is so enduringly strong you can be sure that these three guys in their mid-20s will still be drawing from them if they're gigging two decades down the line.

Fatherson's roots lie in the Scottish town of Kilmarnock, where Ross Leighton (vocals, guitar), Marc Strain (bass) and Greg Walkinshaw (drums) were school friends. Two years before they'd even released an album they were selling out 600-capacity venues.

Their popularity scaled greater heights with the release of Open Book on Easy Life Records, a subdivision of Sony Music, in the summer of 2016. When it went straight in at No.2 in the official Scottish album charts, Fatherson found themselves sandwiched between Paul Simon and Coldplay. Poor Beyonce was pushed down to No.4.

Other highlights to date include supporting Kings Of Leon in Vienna, selling out a headline show at the legendary Glasgow Barrowlands and packing out a 12,000-capacity tent at T in the Park. They have also played in the UK and Europe with Biffy Clyro,Twin Atlantic, Enter Shikari, Frightened Rabbit and Augustines.

Following quickly on the heels of Radio 1 Huw Stephens cherry-picking Sea Girls as Ones To Watch For 2018 the band release `Heavenly War EP2 which furthers the bold claim that they are one of the most reliable new bands for penning these instant indie-disco, festival ready anthems.

Written and fronted by Henry Camamile, the single Heavenly War now follows `Call Me Out', 'Lost', and 'What For' as another timely example of what this young British band are capable of.

Arriving in London via Leicestershire and Kent, Sea Girls know there is nothing understated or apologetic about a bold chorus, especially one that can be sung in unison by thousands of fans together of all walks of life. Sea Girls have these choruses in spades.

Henry Camamile on `Heavenly War' "This song is about that weirdly exciting but quite difficult conflict of feelings and events that makes our lives worth living. Ultimately describing that moment when you feel the best about life. I think it's a really positive message."

Listen to Heavenly War here: https://seagirls.lnk.to/heavenlywar

NME - "Call Me Out is a proper belter"

DIY - "Sea Girls deliver rousing guitar-pop"

CLASH - "Snappy, instantly infectious indie bangers"

DORK - "Ridiculously catchy indie-rock ringing through your ears"

That rare new band who seem to arrive self-contained, fully-formed, and seemingly ready for anything, APRE are already showing a keen ear for fearless pop songs which also speak of life's bigger hopes and fears.

Drawing equal influence from the confessional tones of Bon Iver and Foals as red-blooded 80s pinups like Tears For Fears and ABC, APRE first met in the unlikely musical haven of Ealing Chess Club. They were introduced through the owner Sue, who let the pair use the back room of the club to start self-producing their songs and rehearse their creations live. The first results, 'The Movement Of Time' EP, proved an immediate checkmate, twisting those most private moments into widescreen, alternative pop. Its followup - 'Drum Machines Killed Music' - began life as one of the boys' dissertation title, but now acts as a movement of time into the next phase of APRE (discussing the changes in music through the developing use of drum machines). Nodding to the past, present and brightly forecast future, APRE's quickly-identifiable sound is matched by a keen eye for arresting, slightly surreal visuals (from the early artwork to their instantly-identifiable red jackets). Watch this one.

EUT don't want to grow up. The Dutch five-piece make shiny, eternally youthful guitar music that champions acceptance, community and - most of all - buckets of fun. It's apparent within a single second of debut album 'Fool For The Vibes', when first track 'Look (Who Has Decided After All)' bursts into life with a glammed-up, Thin Lizzy-worthy guitar lick.

Meeting at Art School in Amsterdam, the band is the brainchild of Megan de Klerk, a captivating vocalist whose lyrics dance around '90s influenced guitar pop that flits between traditional genre boundaries with abandon. It turns out it's these differences that saw the band thrive in their early days, using opposite takes on things as a driving force rather than a stumbling block.

"We're five completely different people, and it clicks because of that," bass/keys player Sergio Escoda affirms. "We are so different, and we all like different stuff and inspire each other. That's the explanation of why it's so easy for us. It's all about imbalance, left and right, contradictory stuff. Opposites attract!" he grins. "That's our fuckin' statement baby."

Across their debut album, released late last year in their native Holland and getting a UK release via indie stalwarts V2 Records on 24 May, these competing elements meet harmoniously. The band cite The Cardigans, Beck and Blur as influences on the record, and strokes from across the guitar music spectrum can be found in every fascinating corner of the record.

'Sour Times' shows off Megan's vocals best; its inherently playful nature bursts out in a defiant wave in its soaring earworm of a chorus. "The big bad world will still throw rocks at my door," she concedes, but rather than giving in to such pressure, EUT's tactic is so dance through the pain. Single 'Supplies', meanwhile, gained significant Radio 1 support on its initial release last year, and feels perfectly at home on the airwaves - it's a sassy strut that makes you feel invincible. Elsewhere, 'Bad Sweet Pony' flits between leather-clad guitar licks and a warm, surging chorus.

Emerging alongside the likes of Pip Blom, Canshaker Pi and Amber Arcades, EUT are further proof of a burgeoning Dutch scene making interesting, unusual guitar music that prioritises joy and confidence. "We've become family," Megan agrees of the band's relationships with their peers.

The confidence gained from seeing their contemporaries rise around them has given EUT an extra hit of ambition as their debut is set to be unleashed across the globe. "At the beginning, we just wanted to make nice songs and have fun," Megan says. "But now we really feel like there's so much more left for us to see and to conquer."

This idea of conquering - conquering expectations and preconceptions, conquering personal ambitions, conquering against the ever-present dark - is paramount across 'Fool For The Vibes', an album that focuses around the idea of being told that, at a particular age, you need to act a certain way, or do certain things, before comprehensively kicking back at the outdated preconception. The lyrics are all about feeling like you have to grow up, but you know you're never going to. Megan describes the record as "Tiny stories that will tell you all about that."

"I just want people to not feel like they have to grow up," she hammers home. "Do whatever you want and don't fucking care about what anyone thinks of you, because people are just scared. We're not growing up...we're growing. There's a lot of pressure, that you have to be the best at everything, and act your age, and you just don't. Just do whatever you want and be kind."

"I tell myself that too," Sergio backs up. "To go off and do the stuff that you 'should' do when you're 28."

"MAKE BABIES!" Megan yells, laughing.

"Or get married, and have a 9-5 office job…" he continues. "Sometimes you say that to yourself, but then you come into rehearsal, play these songs again and you feel like nothing really matters anymore except this...except what you're good at." As a manifesto for self-acceptance and making the most out of life, it sounds pretty much perfect, and all plays out on 'Fool For The Vibes'.
TENEMENT TV & DF CONCERTS PRESENT
TENEMENT TRAIL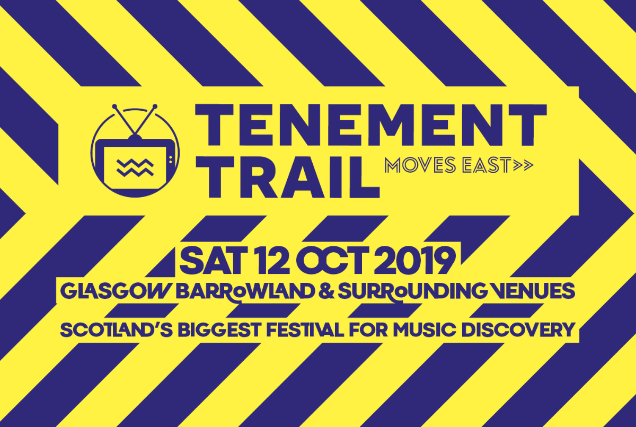 £29.15
Ages 14+
14+ (Under 16s with an adult)

VENUES
Barrowland
Barrowland 2
St Luke's
Winged Ox
BAAD
BAAD Courtyard
+ more TBC