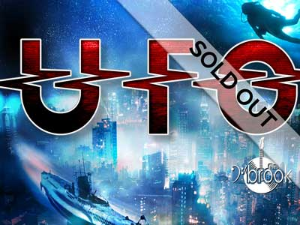 Tue Sep 12 2017
8:00 PM Doors
466 Portswood Rd
Southampton SO17 3SD
£22 Adv / £25 Door
Ages 18+
Share With Friends
British rock legends return with their first new album in over 20 years! Influenced everyone from Iron Maiden to Metallica.
UFO - A Conspiracy Of Stars Tour
Sorry, you missed this event.
Check out other similar events on TicketWeb.
UFO - 'A CONSPIRACY OF STARS' Tour

feat.

Phil Mogg, Paul Raymond, Andy Parker, Vinnie Moore & Rob De Luca

Of course you don't need to attach more importance to this piece of news than it necessarily has, but it certainly deserves to be mentioned: for the first time in more than 20 years, one of the most British rock bands in music history has recorded a studio album in their native country. Their latest offering is entitled A Conspiracy Of Stars, was cut by rock legend UFO and breathes that typically British easy-going confidence for which this band has been known for over 45 years. A strong release consisting of eleven songs which combine everything that the group surrounding frontman Phil Mogg stands for: meaty riffs, distinctive hooks, diverse songwriting, intelligent lyrics and that generally laid-back attitude which we have associated with UFO from the start. The fact that A Conspiracy Of Stars was produced and mixed by Chris Tsangarides (Judas Priest, Thin Lizzy, Gary Moore, among others) may be considered another successful element in a thoroughly consistent release. To cut a long story short: their 22nd studio recording to date sees UFO prove that past and present can be blended in a homogeneous whole.

A Conspiracy Of Stars presents UFO's current line-up for the first time: along with the original members, Phil Mogg (vocals), Paul Raymond (keyboards, guitar) and Andy Parker (drums), lead guitarist Vinnie Moore has been a permanent member of the group since 2003, American bassist Rob De Luca joining the fold in 2012. De Luca is not only a brilliant instrumentalist but has also contributed two of the album tracks as a songwriter. The majority of the new material was composed by Vinnie Moore, the album also featuring a song by Paul Raymond and a collaboration between Raymond and De Luca. The lyrics were penned by frontman Phil Mogg.

Talking of which: once again, Mogg proves his talent as a keen observer of the human species. Despite his exceptional position in the international rock'n'roll genre, the British vocalist has remained a man of the people. Mogg continues to be sympathetic to the working class, that's where his roots are, those are the people that the UFO singer continues to feel close to. Listening to UFO's new material, you can hear his origins in his songs, in his lyrics, which – despite plays on words and conscious ambiguities – prove his unconditional down-to-earthiness and produce wonderfully poetic phrases such as: "The scatter rollers coming down, summers been and turned around, it don't seem so long ago, that you were my precious cargo," he sings on 'Precious Cargo', an equally subtle declaration of love as the number 'Killing Kind', which has Mogg kick off with the words: "Tell a story about love and what lovers find, a story of possession, the killing kind." In view of so much verbal aesthetics it comes as no surprise that the UFO vocalist is appreciated the world over for his sensitive and carefully written lyrics.

Lyrics and music for A Conspiracy Of Stars were written and composed in summer 2014. The band met for rehearsals at the Barn Room studios in Kent in mid-August before UFO moved a few miles further east to Chris Tsangarides' Ecology Rooms studio, where they recorded their latest oeuvre, supported by the Greek Cypriot-British sound engineer, from late August until mid-September. Coincidentally, Tsangarides was working at the studio as a 14-year-old trainee when UFO recorded their debut album UFO 1 in England in 1970.

So everything's ready: A Conspiracy Of Stars is all wrapped up, the tour to support the album in spring 2015 has been booked, and UFO are ready to embark on the 22nd chapter of their career. Respect!

HISTORY

There are even more stories about UFO than they've composed songs. Any band who have been in the music business for more than 40 years are bound to have experienced difficult times, but also dazzling successes and spectacular events. UFO's success story began in London way back in 1969, when vocalist Phil Mogg, drummer Andy Parker, guitarist Mick Bolton and bassist Pete Way formed the group. Even in the Seventies, the band distinguished themselves with their very own, unmistakable style, touching a nerve among their growing following with rock numbers like 'Prince Kajuku', 'Follow You Home' or 'C'mon Everybody' from their albums UFO 1, Flying and UFO Live.

The global breakthrough arrived when German guitarist, Michael Schenker, joined the fold in 1973, having left his band Scorpions to follow an offer by Phil Mogg and Pete Way. UFO released three consecutive rock classics with Schenker (Phenomenon (1974), Force It (1975) and No Heavy Pettin' (1976)), featuring classics like 'Doctor Doctor', 'Shoot, Shoot', or 'Rock Bottom'. Following the arrival of keyboarder/rhythm guitarist Paul Raymond, UFO released their two studio albums Lights Out (1977) and Obsession (1978), including the hit singles 'Too Hot To Handle', 'Lights Out' and 'Only You Can Rock Me'. Their live cut Strangers In The Night came out in 1979 and is referred to by the press to this day as one of the best live releases of all time, while also signalling the end of the Mogg, Way, Schenker, Parker & Raymond line-up.

The reorganised band underwent fifteen years marked by various eras and numerous line-up changes. To everyone's surprise, autumn 1993 saw the return of the former UFO line-up consisting of Mogg, Way, Schenker, Parker and Raymond. This new edition of the classic team brought out Walk On Water, their first joint effort after one and a half decades, and embarked on a world tour. However, Schenker left UFO during the Walk On Water tour again to continue working with his own group, MSG, while Mogg & Way went on to release their second album, Chocolate Box. The UFO albums Covenant and Sharks, recorded by Mogg, Way and Schenker, arrived at the stores in 2000 and 2002. Vinnie Moore went on to follow in Schenker's footsteps, who had returned to MSG, recording the songs on You Are Here with Jason Bonham. During the subsequent world tour, UFO cut a show in Germany, which was later released on the live album, Showtime, and the same-named DVD featuring additional bonus material. Later, Bonham bid his farewells and UFO's original drummer Andy Parker returned on The Monkey Puzzle (2006) and its successors The Visitor (2009) and Seven Deadly (2012). So with Phil Mogg and Andy Parker, the band today consists of two original members, plus classic-era Paul Raymond and American guitar slinger Vinnie Moore – the perfect complement.

"I sometimes get goosebumps when I hear how it's all going. We hope people realize that we are trying to do something with originality and passion. We're aiming for a different flavour and slant on blues rock, so people might say; 'wow they do this and then take it there', that's the aim." Paul Bowe

No so much what the Americans call a 'throwback band' as a hi-energy outfit with their own take on blues-rock, Manchester's Federal Charm is a big sounding rock band with blue influences and real presence. Their rip roaring style draws on the blues but is never constrained by it, as they fill every crevice of the studio with displaced air molecules.


Formed in 2009, the band's fiercly independent streak was immediately emobied in the name, as co-founder member Paul Bowe explains; "The name came from a Eureka moment in a Manchester bar, I really liked the idea of being called 'Federation' or 'The Federation'. I liked the hard togetherness of it and Nick wanted to quirk it up. He liked the word 'Charm' and we put it together and the rest is history. We also thought no one on earth would have the name. It's got a nice ring to it and looks great on merch (laughs)."

Federal Charm's music draws from a deep well, spanning a Classic Rock curve that conjoins a big Zeppelin sound with Rage Against The Machine bombast (without the hardcore vocals), the contemporary bluster of The Rival Sons and the indie blues-rock of The Black keys, with distant echoes of the Black Crows. It's tension busting rock with blues roots, imbued with restless, original ideas, coruscating solos and sculpted walls of sound that push the songs into previously undiscovered avenues.

Federal Charm invest swaggering riffs, sleazy slide flourishes and cinder-raw vocals with a confidence that is utterly winning." Classic Rock
UFO - A Conspiracy Of Stars Tour
Tue Sep 12 2017 8:00 PM Doors
The Brook
Southampton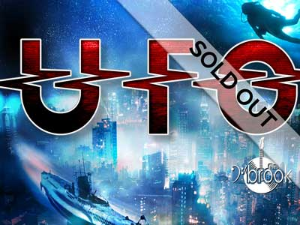 Sorry, you missed this event.
Check out other similar events on TicketWeb.
£22 Adv / £25 Door
Ages 18+
British rock legends return with their first new album in over 20 years! Influenced everyone from Iron Maiden to Metallica.